Hydrogen and Electric Fuel Options for Automobiles
As I write this article, specifically in late November 2010, an electrically powered car built by students from the Imperial College in London is currently making its way through South America. It has covered thousands of kilometers in its inter-continental tour which is aimed at increasing the visibility of alternative sources of energy. The driving force behind the students' optimism is that Science and Technology can make our energy sources smarter, only if we work at it consistently. It is against this backdrop that I will like to gloss more on the possibility and advantages of alternative sources of power for automobiles, specifically Hydrogen and Electrical powered engines.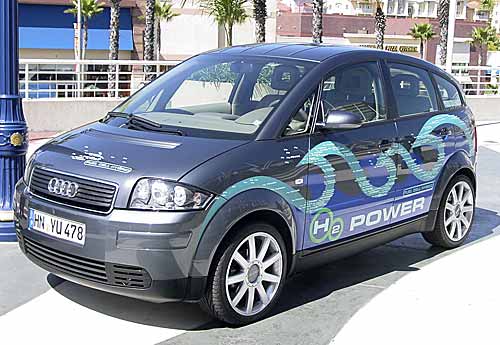 Photo: hydrogencarsnow.com
The negative climate change effects, global warming and the desire for cleaner energy sources serve as the fulcrum for research into these alternative sources of energy for automobiles. The electric powered options have done much better commercially than the hydrogen powered cars. Today, all major car manufacturers have commercially available hybrid vehicles which run on a combination of organic fuel and the full electrical models are usually showcased at automobile shows and the likes. Though, 2010 has seen the launch of the Nissan Leaf which will be the first commercially available car that is fully powered by electric and we look to the future for more promise.

The big advantage associated with these cars is that it would reduce the emission of green house gases into the atmosphere, reduce air pollution and generally make for a cleaner environment. For instance, industry data sources predict that the reduction in carbon dioxide emission by the widespread use of electric cars can be as much as 30%, 19% and 40% in the United States, Republic of China and the United Kingdom respectively.
The second option under review, which is, hydrogen powered car has shown to be feasible but less common when compared to the former because of the complex process and high costs associated with developing hydrogen fuel cells on which hydrogen powered vehicles will run on. The mechanism by which hydrogen reacts to power cars is either by converting hydrogen chemical energy to mechanical energy, combining it with oxygen in a fuel cell or combusting it directly in an internal combustion engine. Though, most research institutes and companies are currently facing the challenge of how to deliver hydrogen in a cost effective manner for commercial use in car engines as an alternative fuel.
Though, most major car companies including Ford Motors, Nissan, and Chevrolet among other have built prototypes of hydrogen powered cars with different brand names, they have all suspended Research and Development efforts towards commercialization because of the high cost of deployment involved. Examples of these prototypes include the Ford Edge, the Sequel from General Motors and Honda FCX Clarity etc. Though, a joint venture by most of the car companies might result in a commercially available hydrogen car by 2015.

Photo: hypebeast.com
Also, additional infrastructure required for the effective use of cars powered by these two sources include charging stations for electric cars and hydrogen fuel stations for the latter. Investment in these infrastructures is required to get these cars more onto the street and the electric charging stations seem to be getting the edge especially in the United States.
This is a full article which also published at article directories. Read more articles please visit ezinearticle.com.